WEB SERVICES AND TECHNOLOGY
We offer direct connections to our customer´s ERP systems to automate administrative processes.
With extensive experience in programming and implementation of electronic data interfaces (EDI), our technology team will advise and manage the interconnection project to ensure rapid and reliable implementation.
Interfaces two-way files (inbound and outbound files)
Demand → Selection confirmation / Dispatch confirmation
Inventory reconciliation
Inventory Adjustments
Master Parts
Customer Master

Compatibility with SAP, Oracle, JDE, AS400 system, etc.
Files made to fit
Files in XML, flat files, etc.
GS1 handling standard formats
Interfaces traceability "Track and Trace" per pallet / SSCC
Interfaces specific transaction data, fingerprints and dimensions, serial numbers, etc.
SFTP connections, intermediaries, middleware
Project Management Implementation
The website features multiple options for monitoring their operations, allowing full visibility of work in process through real-time information.
The Track and Trace portal includes options:
Order tracking
Direct links to transport agency tracking sites
Download documents online
Stocks Inventory Reports
Displacements or sizing orders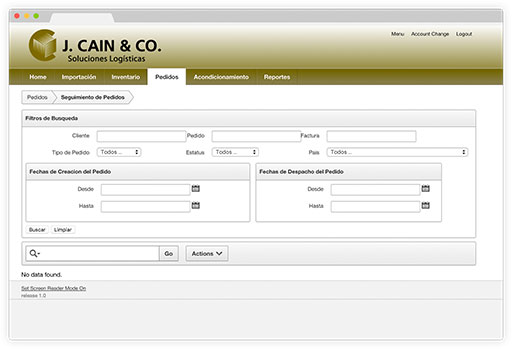 WHY PANAMA? DISCOVER THE PANAMA LOGISTICS HUB AND ALL OF ITS BENEFITS
A custom solution for managing orders through a web portal made to order. Modeled on the image of your business, our Ecommerce site allows direct access to customers to enter their orders based on inventory availability.
This solution allows you, in highly efficient way, to manage customers, orders, and monitor everything in one place. The portal is linked directly to WMS, offering a response time to fill your orders.
Managing users and passwords for client.
Direct orders to WMS.
Visibility inventory availability in real time.
Reports of product orders placed and on waiting list.